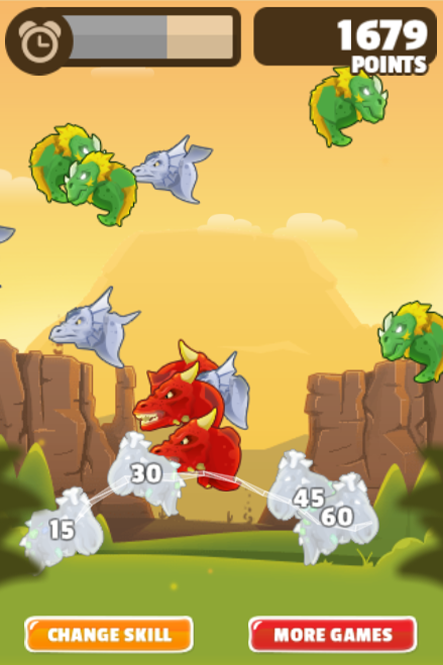 Welcome to our arcade section, where we have a variety of educational Math Games for you to play! Practice your math skills without getting bored with our unique selection of arcade games. All of these online games are mobile-friendly which means you can play them on your phone as well as your computer!
Game Details:
Math Hunter is an exciting game where you will harness the power of math to hunt down and capture dragons. You are tasked with protected your kingdom from legions of dreaded flying dragons. In order to defeat them you will have to swip through them in combinations of at least two dragons of the same color. Your score will increase exponentially based on how many dragons of the same type you are able to capture in a single swipe. But beware! For the dragons are all working together and they will try and block you from getting the combos you so desperatly need. From time to time the sky will rain diamonds, emeralds, and rubies! You can cash in for extra points by ignoring the dragons for a second and instead swiping through the jewels. Stay strong and swipe smart in this fun fantasy game.
Use your mouse to click on and swipe through multiple dragons of the same color and type. Your score will increase exponentially for each like dragon that you vanquish. Try not to doddle because the longer you go without vanquishing dragons the more time will run out. When a level ends or you fail you will be given the opprotunity to answer five math questions of the grade level and skill type of your choice.
Check Out Our Other Games